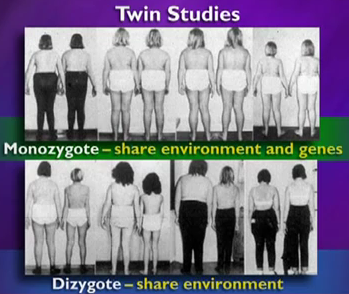 A reader e-mailed me a good question about weight loss that's outside my area of academic expertise but within the realm of stuff I've read enough about that I can offer some speculations and references. I am continually amazed at how complicated nutrition is and how much disagreement there is even among people who study it for a living. The only thing I can say with complete confidence is that anyone who tells you weight loss is simple and anyone can do it is (A) lying, (B) misinformed, (C) trying to sell you something, or (D) all of the above.
Here's the e-mail I got:
If you have the time to answer a question…

I recently came across these articles claiming, more or less, that metabolism does not account for why some people are fatter or thinner than others. 

Article 1 [BBC Health]

Article 2 [Mayo Clinic]

I remember your posts on Sour Salty Bitter Sweet about dieting not being an effective solution to weight loss [here], and it sounded like you thought someone's weight had more to do with genetic factors than lifestyle factors. Do I have that right? Would you disagree with the articles? Or point to non-metabolic genetic factors?

-Anna Macdonald
Both articles essentially argue that it's a myth that fatter people have "slow metabolisms" and burn fewer calories than thinner people. Basal metabolic rates vary based on age, gender, and body composition (or maybe just body composition, but that tends to vary based on age and gender), but as far as researchers can tell, fat people have at least roughly the same metabolic rate as thin people. They just eat more.
I think they neglect or dismiss a few complications too easily—in both diet studies and over-feeding studies, subjects lose/gain less weight than they should based on caloric arithmetic, usually by a significant margin. That's usually attributed to shifts in thermogenesis, or how much heat you generate, and unconscious motions like fidgeting. If you eat more than you're used to, your body may respond by getting slightly warmer and engaging in more restless activity. Eat less, and your body may respond by getting cooler and engaging in less activity. There's some evidence that even for the very rare individuals who lose weight and keep it off long-term, basal metabolic rate remains depressed compared to people with the same relevant characteristics (weight, age, gender, and body composition) who were not previously fat (see NYTimes "The Fat Trap"). Incidentally, there's research from as early as 1980 suggesting that people who maintain weight loss long-term are frequently monomaniacal about food and exercise, engaging in behaviors that might be seen as evidence of an eating disorder in thinner people.
But in general, the articles seem pretty accurate up to the point where they claim that people can lose weight if they eat fewer calories and exercise. The BBC article even claims that "people not only manage to lose weight but are able to keep control of it in the long term," which is technically true—a small percentage of the people who lose weight by dieting do—but certainly isn't the norm. Both articles make an unsubstantiated leap from the idea that basal metabolic rate is at least relatively stable and consistent to the idea that therefore, anyone can be thin if they only eat as many calories as a thin person burns. The key question they fail to address is why fat people eat more calories than thin people in the first place.
I suspect that's because most people think they know the answer: they assume fat people have less willpower, knowledge, or motivation than thin people and therefore make bad choices about what and how much they eat. There's a widespread assumption that if fat people knew better or tried harder, they could be thin. Many people, whatever their weight, believe that they themselves would be probably thinner if they ate better and exercised more and would be fatter if they ate whatever they wanted all the time and exercised less (which is actually probably true, but only within a small range). A lot of people even have personal experiences with weight loss or gain that they may be able to attribute to conscious choices or lifestyle changes. However, for most people, those changes prove to be temporary and I think they overestimate how much control they actually have.
Fat people are not fat because they're weak or lazy or unmotivated or unaware of the supposedly-dire medical consequences and actually-dire social consequences of being fat. Body size is strongly genetically determined and biologically-regulated. It may be sensitive to some environmental conditions, but that doesn't mean it's within individuals' conscious control. If the tendency towards weight homeostasis doesn't work by regulating how many calories people tend to burn, which I agree that it probably doesn't, it must work by influencing how much people eat.
How Heritable Is Fatness? 
Very. Perhaps less than eye color, but more than other conditions widely seen as having a significant genetic component, like schizophrenia or alcoholism. Based on twin studies, one of the classic ways of evaluating the genetic component of all kinds of conditions, weight consistently appears to be approximately as heritable as height—most studies conclude that just under 80% of variation in weight and height is attributable to genetics. Furthermore, genetic influence consistently trumps environmental effects by a wide margin. In adoption studies, another way of evaluating genetic influence, children's weights are strongly correlated with their biological parents' and not at all with their adoptive parents. 
In Stunkard et al 1986, which compared approximately 4000 sets of male twins, the "concordance rates for different degrees of overweight were twice as high for monozygotic twins as for dizygotic twins." In other words, the "identical" twins who share nearly 100% of their genetic material were twice as likely to have similar body types than "fraternal" twins who share only 50% of the same genes. At age 20, comparisons of height, weight, and BMI for both sets of twins yielded heritability estimates of .80, .78, and .77, respectively (1.0 would be perfectly heritable, .00 would be not heritable at all). At a 25-year follow-up, the heritability estimates for the same traits were .80, .81, and .84.
In another Stunkard et al 1986, which divided a sample of 540 adult Danish adoptees into four weight classes: thin, median, overweight and obese, there were strong correlations between the weight class of the adoptees and their biological parents (p<.0001 for mothers, p<.02 for fathers). There was no correlation between the weight class of the adoptees and their adoptive parents.
In Stunkard et al 1990, the researchers used a Swedish database of twins separated early in life versus those reared together collected between 1886 and 1958. They ended up with 93 pairs of identical twins reared apart, 154 pairs of identical twins reared together, 218 pairs of fraternal twins reared apart, and 208 pairs of fraternal twins reared together. The mean age of comparison was 58.6 years old. The heritability estimates (shown in the chart below) are similar to those in the 1986 study. Notably, twins reared together were no more similar than twins reared apart.
A review study done in 1997 by Maes et al looked at the data from 25,000 twin pairs and 50,000 biological and adoptive family members, finding BMI correlations of .74 for monozygotic twins, .32 for dizygotic twins, .25 for siblings, .19 for parent-offspring pairs, .06 for adoptive relatives, and .12 for spouses.
Researchers have also been curious to see if the "obesity epidemic" has changed anything. Have environmental changes in the last few decades trumped genetic factors? Not really. In Wardle et al 2008, they evaluated 5092 sets of twins between the ages of 8 and 11 whose body measurements were taken in 2005. The heritability estimate for BMI was .77. In comparison, the shared-environment effect in the same study was estimated at .10.
As a 2008 review study of research on the heritability of fatness by Stephen O'Rahilly and I. Sadaf Farooqi concluded:
Hereditary influences on adiposity [fatness] are profound and continuing…. There is little serious doubt that the single most powerful determinant of inter-individual differences in adiposity is heredity.
Okay, But How Does It Work? Part I: Epigenetics
Genetics isn't the whole story. We have known for a long time that children without access to adequate nutrition may have their growth "stunted," meaning they may never achieve the same height or weight as adults as they would have if they had been able to eat more as children. Dietary composition also seems to have an effect: populations with access to more protein (or calcium?) may grow taller or fatter than genetically-similar populations who consume less protein. The availability of highly-palatable, calorie dense, high-sugar and high-fat food in countries like the U.S. may create the conditions for some people (though clearly not all) to become fatter than they would in another environment. However, how fat they get in that environment  is still determined largely by genetics, just like how tall people get in the presence of ample protein is still largely determined by genetics.
There's a lot of research being done right now on what are sometimes called "epigenetic" effects, which are factors that influence whether or not (and how) genes get expressed, without any changes happening in the genome itself. This is the idea that genes can get turned "on" or "off."  Some epigenetic effects are trans-generational, meaning something that affects a particular individual or population may only show up in their offspring. So, for example, population that experienced a famine may have offspring who are more inclined to store fat when it's available than a genetically similar population that didn't live through a famine.
See: This Nature article or Herrera et al 2011
Okay, But How Does It Work? Part II: Leptin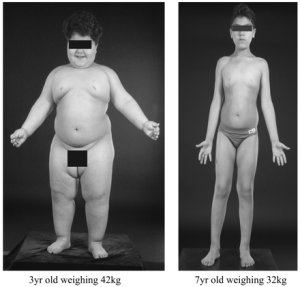 The expression of genes that affect body size probably involves changes in the endocrine system, and particularly the release or suppression of the hormones leptin and gherlin, which control appetite and satiety. Leptin in particular seems to be crucial to the regulation of body fat. It was only discovered in the mid-1990s, so scientists are still trying to understand how it works and what the implications are.
Some extremely fat children, like the kid pictured on the right, have been found to be deficient in leptin. They have seemingly insatiable appetites—when presented with meals in excess of 2,000 calories, they'll eat the whole thing and still be hungry. After receiving leptin injections, they eat age-appropriate portion sizes and lose weight rapidly without dieting or engaging in any formal exercise program.
One of the major differences between people who've lost weight through dieting and people who weigh the same without having dieted is in their leptin levels. Most of what I know about leptin (and most of images in this post) are taken by the following talk by the biologist who discovered the hormone, Dr. Jeffrey Friedman:
In the very beginning of the talk, he makes some causal claims about high BMI/adiposity and mortality that I disagree with, because I'm not sure the correlations are actually caused by fatness, rather than social stigma, racism, poverty, lack of health insurance, etc. (all of which are also correlated with BMI). If fatness caused mortality, why would "overweight" people live longer on average than "normal" weight and "underweight" people and "obese" people who are active live longer than "normal" people who are sedentary? He also says that even modest weight loss is associated with significant health improvements, and I wonder if that claim isn't based on studies where participants begin eating more vegetables and exercising, lose something like 5 pounds, and get healthier overall and researchers conclude that weight loss improves health when really the weight loss is totally meaningless. But once you get past that bit, he makes a pretty strong case for the genetic basis of body size and the role of leptin in the regulation of body fat.
Okay, But How Does it Work? Part III: Endocrine Disruptors
Just to complicate things even further, it turns out that a lot of the chemicals we're exposed to can affect the endocrine system. Bisphenol A, the now-vilified chemical used primarily in plastics and also in the lining of aluminum cans, turns out to be an endocrine disruptor. Fluoride is also an endocrine disruptor. So are brominated fire retardants and many pesticides (even organic-certified ones, like copper sulfate).
Some of these may only affect people if they're exposed at a particular point in their development—in utero, pre-adolescence, etc.—or at a particular dosage. So if your mom ate a lot of highly-acidic canned foods while she was pregnant with you, that might affect your thyroid function from birth. Or if you spent a lot of time on a rug treated with flame retardant chemicals as an infant, that might affect you, but maybe if you'd been 5 or 6 years old, it wouldn't. Those are just hypothetical scenarios, the actual effects and doses of endocrine disruptors are not yet well understood or documented. So I'm not saying you should stop getting fluoride treatments. I suspect (and hope) that in another decade or so, we'll have a better sense of how chemical exposure affects weight gain.
For more on endocrine disruptors and obesity, see Julie Guthman, Weighing In especially Chapter 5.
When Metabolism Matters: The Evidence From Overfeeding
If body weight is genetic, it should probably be nearly as difficult to gain weight as it is to lose it. Although it does seem to be possible to gain weight deliberately—some athletes and actors do this—it takes a lot of work. The results of overfeeding studies suggest that people who deliberately eat more than they would normally have to suppress their desire to stop eating and lose any weight they gain very easily as soon as they stop "overeating."
BBC made an hour-long documentary about one of these studies, called "Why Are Thin People Not Fat," which I first saw posted on Tom Naughton's blog FatHead:
If you don't want to watch it (spoiler if you do): ten thin people were told to eat twice as much as they normally do (the target caloric intake for men was approximately 5000 kcal/day) and refrain from exercise for four weeks. There was a lot of variation in the results—some gained more weight than others, some gained more fat than others. One of the participants gained muscle. None of them gain as much weight as they "should" based on caloric arithmetic, meaning there must have been changes in their metabolism. Additionally, the subjects report feeling pretty miserable: the amount of food they have to eat makes them feel sick. At least one of them mentions throwing up some of what he ate. They all get tired of milkshakes and chocolate and pork pies. And month after the experiment was over, the participants had all lost most or all of the weight they gained during the experiment without engaging in any deliberate weight-loss strategies.
The documentary mentions another overfeeding study known as the Vermont Prison Experiment. Researchers at the University of Vermont led by Ethan Sims initially tried to use students as subjects. They were told to eat 2-3x their normal caloric intake, but even after 5 months, most had increased their weight by only 10-12%. Sims' goal was 25%, so he turned to inmates at the Vermont State Prison, who he describes as "equally dedicated volunteers." After 200 days of eating up to 9-10,000 kcal/day, some of the participants were still not able to gain 25% of their starting weight. For the few who were able to gain 25% or more, in order to maintain the goal weight for any length of time, they had to continue eating on average ten times the number of calories that should have been necessary based on simple caloric arithmetic. This is also explained by metabolic changes—whether through thermogenesis or unconscious activity, the men were burning vastly more calories than before despite being prevented from exercising. Again, after the study was over, the prisoners easily lost most or all of the weight they had gained.
In Conclusion
The genetic influence on weight seems to work primarily by affecting how much people eat, not how many calories they burn. Fat people burn more calories than thin people, but they also eat more than thin people. That doesn't mean that fat people "overeat." Most people, fat or thin, maintain a relatively stable weight over long periods of time. If fat people were eating more calories than they typically burn, presumably they would be constantly gaining weight. Appetite and satiety are governed by biology, not willpower. Most people seem to be capable of consciously and deliberately reducing or increasing their caloric intake temporarily, but that's difficult and unpleasant and virtually impossible to maintain long-term.