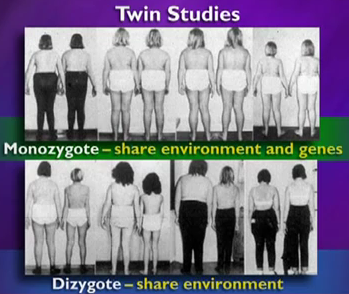 A reader e-mailed me a good question about weight loss that's outside my area of academic expertise but within the realm of stuff I've read enough about that I can offer some speculations and references. I am continually amazed at how complicated nutrition is and how much disagreement there is even among people who study it for a living. The only thing I can say with complete confidence is that anyone who tells you weight loss is simple and anyone can do it is (A) lying, (B) misinformed, (C) trying to sell you something, or (D) all of the above.
Here's the e-mail I got:
If you have the time to answer a question...

I recently came across these articles claiming, more or less, that metabolism does not account for why some people are fatter or thinner than others. 

Article 1 [BBC Health]

Article 2 [Mayo Clinic]

I remember your posts on Sour Salty Bitter Sweet about dieting not being an effective solution to weight loss [here], and it sounded like you thought someone's weight had more to do with genetic factors than lifestyle factors. Do I have that right? Would you disagree with the articles? Or point to non-metabolic genetic factors?

-Anna Macdonald
Both articles essentially argue that it's a myth that fatter people have "slow metabolisms" and burn fewer calories than thinner people. Basal metabolic rates vary based on age, gender, and body composition (or maybe just body composition, but that tends to vary based on age and gender), but as far as researchers can tell, fat people have at least roughly the same metabolic rate as thin people. They just eat more.
I think they neglect or dismiss a few complications too easily—in both diet studies and over-feeding studies, subjects lose/gain less weight than they should based on caloric arithmetic, usually by a significant margin. That's usually attributed to shifts in thermogenesis, or how much heat you generate, and unconscious motions like fidgeting. If you eat more than you're used to, your body may respond by getting slightly warmer and engaging in more restless activity. Eat less, and your body may respond by getting cooler and engaging in less activity. There's some evidence that even for the very rare individuals who lose weight and keep it off long-term, basal metabolic rate remains depressed compared to people with the same relevant characteristics (weight, age, gender, and body composition) who were not previously fat (see NYTimes "The Fat Trap"). Incidentally, there's research from as early as 1980 suggesting that people who maintain weight loss long-term are frequently monomaniacal about food and exercise, engaging in behaviors that might be seen as evidence of an eating disorder in thinner people.
But in general, the articles seem pretty accurate up to the point where they claim that people can lose weight if they eat fewer calories and exercise. The BBC article even claims that "people not only manage to lose weight but are able to keep control of it in the long term," which is technically true—a small percentage of the people who lose weight by dieting do—but certainly isn't the norm. Both articles make an unsubstantiated leap from the idea that basal metabolic rate is at least relatively stable and consistent to the idea that therefore, anyone can be thin if they only eat as many calories as a thin person burns. The key question they fail to address is why fat people eat more calories than thin people in the first place.
I suspect that's because most people think they know the answer: they assume fat people have less willpower, knowledge, or motivation than thin people and therefore make bad choices about what and how much they eat. There's a widespread assumption that if fat people knew better or tried harder, they could be thin. Many people, whatever their weight, believe that they themselves would be probably thinner if they ate better and exercised more and would be fatter if they ate whatever they wanted all the time and exercised less (which is actually probably true, but only within a small range). A lot of people even have personal experiences with weight loss or gain that they may be able to attribute to conscious choices or lifestyle changes. However, for most people, those changes prove to be temporary and I think they overestimate how much control they actually have.
Fat people are not fat because they're weak or lazy or unmotivated or unaware of the supposedly-dire medical consequences and actually-dire social consequences of being fat. Body size is strongly genetically determined and biologically-regulated. It may be sensitive to some environmental conditions, but that doesn't mean it's within individuals' conscious control. If the tendency towards weight homeostasis doesn't work by regulating how many calories people tend to burn, which I agree that it probably doesn't, it must work by influencing how much people eat. Read more »